(a photo montage of my evening)
Edward Hopper, The Night Window, 1928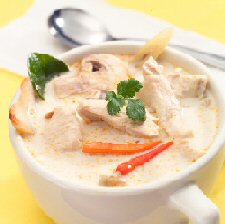 Delicious Tom Kha Soup

The Vintage Haberdashery on Morganford

Hindu Elephant Cake, Rachel Getting Married
Yesterday was fabulous for many reasons.
I woke up to a phone call from Ciaran, and we managed to have a civil, even pleasant conversation.
Then Christina and I decided to spend the afternoon/evening doing our vintage shopping. We went to Retro101 on Cherokee, which I loooove, but we were a bit rushed there since they were getting ready to close. Then over to Soulard where we hit Remember Me on Russell, which was cool, but more of a costume shop. Next stop was the Vintage Haberdashery on Morganford, also a good one, but a bit pricy. With no finds and hungry bellies, we decided it was time for some Thai. I'm not usually a fan of it, but Christina wanted it, and I'm not picky. We went to the King & I, which actually had delicious Tom Kha soup and Pad Thai. Maybe I like Thai more than I think.
We realized we were just a block away from this gelato place that I like, so we walked down. After all what Thai meal isn't best followed by some authentic Italian gelato? Inside, the most adorable guy I've seen in awhile was working at the counter. And I decided I must find a way to visit The Gelateria every friday, as I have a new crush! Not to mention I can never get enough italian ice cream. I had Bacio, Marscapone, and London Fog- which was actually delicious- a mix of earl grey tea with vanilla ice cream.
We headed down to The Loop to see what was playing at the Tivoli. We got two tickets to see Rachel Getting Married, which I had been wanting to see every since I saw previews a couple months ago. With time to kill beforehand, we got some hot drinks at Meshuggah (I ordered Rooibos tea, just because I learned the correct pronunciation of that word this week) , and perused the used book store down the street. I flipped through an Edward Hopper book, and remembered how much I adore his work. I love the time period he depicts, the colors used, the way he paints windows, and light coming through them, and the urban settings. He reminds me a little bit of Wyeth too, also one of my very favorites.
Anywho, one more last minute vintage stop was made, I had forgotten about
T.A.G.
(across the street from the book store) which was open late, and I finally found something! I got an adorable long bright red sweater, which I hope to wear frequently.
Finally it was time for the movie. And I absolutely loved it. I thought it was realistic, relevant (maybe just to me), made me feel all kinds of emotions (but as previously stated, a lot of movies have had that effect lately), and I loved the array of people in it, and the beautiful music. Christina really didn't like it, she thought it was too long, that it could have been edited better, and that it was depressing. Maybe I'm just less picky about movies. But it really made me happy. We did agree, however, that we wanted the wedding cake in the movie! So fantastic!
So, it was a great night! Full of things I love!
Today, I am off work again, so I'm not sure what I'll do. Probably call up Claire to see what she's up to... I haven't talked to her since the other night when I got pissed about Ben.
One of my textbooks came in the mail today. I had ordered it on ebay, as I refuse to pay full price at the bookstore. However, the cover is in CHINESE!!!! I knew it was from Hong Kong, but the listing was all in English, and posted on the US site for ebay-- you'd think they'd atleast mention the cover and some of the pages were in Chinese!!!!!! Luckily it is in English on the inside, I'm just hoping the page numbers match up, and everything. I guess it will be a good conversation starter to meet people in class!