I love weekend mornings when I don't have to work, and I can sleep in, get up and make a nice breakfast for myself, have a cup of coffee, and get a chance to flip through the Post Dispatch.
A couple of things I came across in the paper this morning made me happy.
Parade Magazine had an article about Steve Martin (one of my favorite comedians), and featured an interview of him by his own character from The Pink Panther (a movie that was way funnier than I thought it'd be!).
Inspector Clouseau: I can see from your hair and your tan that you are an actor. Tell me about your latest film.
Steve Martin: It's called Pink Panther 2, and it's a comedy.
Clouseau: I understand the character you play is charming, dignified, and incredibly brilliant. Is it difficult to portray a character so different from yourself?
Martin: Are you suggesting that I'm not those things?
Clouseau: I don't know. Am I?
Martin: I think you should move on.
Clouseau: Moving on. Where were you Thursday between 10 p.m. and midnight?!
Martin (confused): I was probably…watching television. Writing. Maybe playing the banjo. Why do you ask?
Clouseau: No reason. (Clouseau eyes Martin suspiciously.) Next question. Multiple parts: 1, how would you describe your method of acting? 1A, does the process vary depending on the size and nature of the part? Question 1A-sub-i, what role does costume play and, question 1A-sub-ii, how does that affect your emotional connection to the film as a whole?
Martin: Yes.
Clouseau: What's next for you?
Martin: I'm appearing in several films, and I have a banjo record coming out called Beverly Hills Banjo.
Clouseau: You wrote a book about your life called Born Standing Up. When you were born this way, was that uncomfortable?
Martin: I wasn't actually born standing up. I was born…never mind. It's a reference to my early career as a stand-up comedian.
Clouseau: I see.
Martin: Do you?
Clouseau: Not at all. One last question: It's clear that you are a very dashing, handsome man. But tell me— have you ever considered a mustache?
Martin: I'm gonna go now. Nice to meet you, Inspector.
Clouseau: Do not leave New York!
I literally laughed out loud several times while reading that!
The
front page of the A&E section
was about an upcoming exhibit at Wash U's Kemper Art Museum on modernist architect Eero Saarinen, who designed the Gateway Arch. Looks really interesting and I can't wait to go see it after it opens next Friday!
JFK Airport's TWA Terminal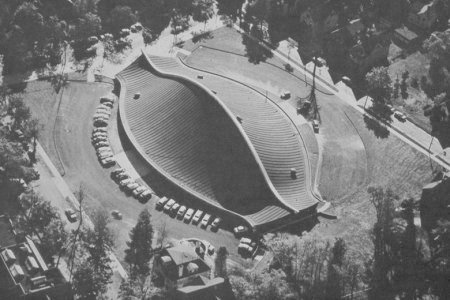 Ingalls Hockey Rink, Yale University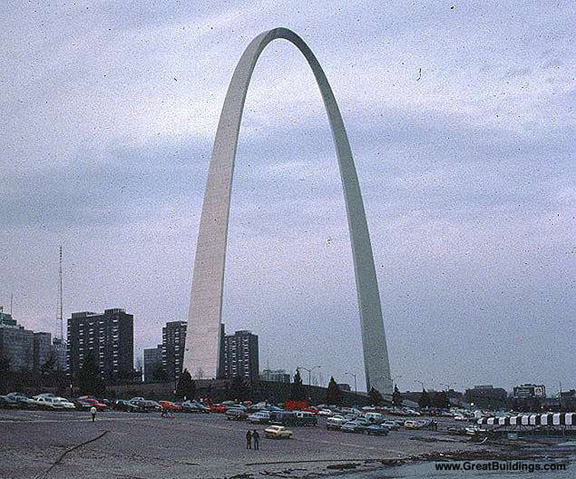 St. Louis's Gateway Arch, of course